Beneficiaries for March 2021: Redeemer Community Church and North Fulton Community Charities (NFCC)
Redeemer Community Church serves the Vine City community in Atlanta and many communities surrounding it in the downtown area. These communities date back to the 1800s and played a major part in the Civil Rights movement with Martin Luther King's family living in the heart of Vine City.
Vine City has suffered harder times since then, struggling to recover from high crime rates and blighted neighborhoods, but with the help of Redeemer Church is coming back to the community it once was. Redeemer services these communities not only in church service but fosters good neighbors that take care of each other.
Recently for Valentines Day, they brought gifts and candy to the community's senior members and are now collecting canned goods and cleaning supplies. Yellow Bag is collecting for their food drive in March and, knowing how Northminster's giving is always in abundance, an overflow will go to NFCC.
DONATIONS NEEDED
Canned soups, canned fruit, veggies, and chicken
Grits and oatmeal packets
Healthy snacks
Dried rice and beans
Small bleach and Tide pods
Bar soap
Surface cleaner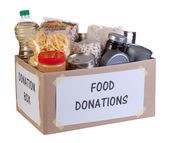 PICK UP YOUR YELLOW BAG IN THE LARGE COVERED BIN OUTSIDE THE CHURCH'S MAIN DOORWAY BEGINNING MONDAY, MARCH 1st AND RETURN BY THURSDAY, APRIL 1st.