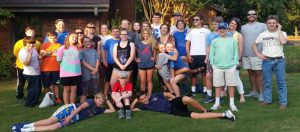 The purpose of the Northminster Youth Ministry is to call young people (Middle School and High School) into the presence and ministry of Christ, to nurture them in their faith, and to faithfully care for their souls.  We accomplish this through:
WORSHIP — Honoring and praising God sincerely
DISCIPLESHIP — Growing and understanding God more deeply
FELLOWSHIP — Connecting and growing with others honestly
MINISTRY — Discovering and utilizing our gifts faithfully
OUTREACH — Sharing our experience with God truthfully
If you have questions, contact  [email protected] or our director of Youth and Young Adult Ministries, Brian Ward.
Regular programs include:
---
Want a place to gather with your friends… a place to have fun and talk… a place where everyone is accepted and everyone knows your name… a place that is safe?  This is the place!  Sunday Evening Youth Groups!  It's a great place to be and make new friends!
Both our Middle School and High School youth groups meet at the same time on Sunday evenings from 6:00-6:30pm for dinner and 6:30-8:15pm for the Youth Program.  Come and see what God can do to transform you from the inside out.  We'll play together, sing together, worship together, and talk together about how God wants to Renew, Restore and Revive us.  Come join us!
Contact Brian Ward  for more information.