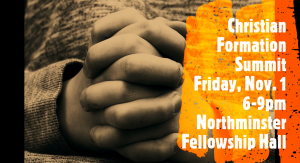 I continue to be grateful to this congregation for the ways you love and support the children and youth of this church.
Many of you have already invested considerable time and energy in the work we have done with Ministry Architects. We hope you have some left.
As we continue to build the infrastructure for a long-lasting, deep-impact ministry, it's time for us to create an intentional plan of Christian formation. This plan will include a scope and sequence that spans our learning environments, including Sunday youth group, Sunday school, and confirmation, as well as strategically designed milestones and special events. Together, these create the framework for the significant ministry you have in the lives of our children and youth.
We don't want to take this important step without your help. Many of you are connected with our children or youth week in and week out, so your knowledge and passion really must be part of the upcoming Christian Formation Summit on Friday, November 1 at 6:00 pm in Fellowship Hall.
Our friends at Ministry Architects will be onsite leading a fun, interactive process to involve stakeholders in the Christian education of our children and youth. The Christian Formation Summit will build upon the work that we have done together during the previous Ministry Architects visits. We have already assessed the ministries and developed a vision, and this coming event will build clarity and consensus on what we hope our children and youth will know, feel, and do because of their experience at NPC. We will come away with an overarching formation plan which includes a one-year detailed teaching template.
It's a lot of work that will save us all days and days of work and worry for years to come. Please know we appreciate your investment in the young people of NPC – it matters. If you have any questions, comments, etc., please do not hesitate to contact Jennifer Filpi or Patrick Day. Childcare and light snacks will be provided at the church! We appreciate your commitment to this process. We have a very exciting opportunity before us, and we can't think of a better group of people to help us get there.
Peace,
Patrick