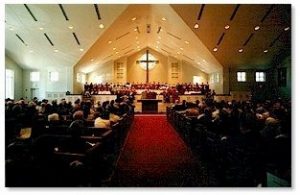 Northminster Presbyterian Church (NPC) was organized by the Greater Atlanta Presbytery on June 28, 1981. The Reverend Dwight Bayley served as its organizing pastor. During the first three years the church met in various temporary sites. Groundbreaking on the new church building was held in June 1983. By this time, the church was offering Worship, Sunday School, Fellowship events, and Adult and Children Choirs.
The first worship service in our permanent home was held in June 1984. Seeing a need for quality early childhood education, the Northminster Day School opened its doors in 1985 and has continued this valuable ministry today.
Between 1984 and 1986 the membership doubled and required the church to recommend the building of the education wing. In June 1990, our 2-story Education wing and an additional 125 parking spaces were completed.
Plans were presented to build a new sanctuary in the fall of 1995. This building was completed and consecrated on Christmas Eve 1998. The old sanctuary was repurposed and renamed the Fellowship Hall. In 2008, the original building was renovated to better serve the membership.
In 2000, the Greater Atlanta Presbytery requested that Northminster host an immigrant fellowship. NPC formed a Ministry Partnership Council with a Brazilian group, and Ebenezer Brazilian Presbyterian Church was organized. As an outgrowth of our relationship and commitment to the Brazilians, NPC organized its first Brazil Mission trip in the fall of 2001. NPC and Ebenezer joined with Manaus Presbyterian Church in Brazil to support their medical mission program for many years.
Our founding pastor Dr. Dwight Bayley completed his ministry with us in August 1995 and was replaced by Rev. Jim Simpson, who came from Scotland, in August 1996. Rev. Jim Simpson served us faithfully for the next eleven years and left in September 2007 to serve at Presbyterian College in Clinton, S.C. Our current pastor, the Rev. Patrick Day, was called to us in September 2008 from the Chicago area.
---